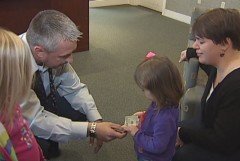 When thieves steal from children, people get offended.
Thursday night at 11, we told you about a Chesterfield family being hit by burglars – they even took the toddler's piggy bank!
Bail bondsman Vernon King called 12, wanting to help. The surprise left the little girl speechless. Disgust drove King to replace the cash thieves took when they cracked open little Avery's piggy bank. He called 12 with his offer to help, and the two families met here at NBC12.