A WAY OUT


BAIL BONDS
Notice
: Undefined variable: return in
/sites/awayoutbailbondsva.com/files/wp-content/themes/theme19121/includes/theme_shortcodes/shortcodes.php
on line
13
Bail Bonds Saluda VA | Bail Bondsman Middle Peninsula Regional Security Center


All bail bondsmen who post bail bonds at Saluda jail should recognize this sign. It's the jails way of saying if you get arrested, there's ALWAYS a bed available.
Bail bondsmen minutes away from the Middle Peninsula Jail in Saluda VA | Call us 24 hrs a day 804-758-4111
A Way Out Bail Bonds will be happy to answer any questions you have.
Saluda Jail holds for Essex, King & Queen, Middlesex, King William, and also Mathews counties. If a friend or loved is granted a bond, call A Way Out Bail Bonds Saluda right away before heading to the jail. However, if no bond is granted, they'll see a judge in a few days because those counties only have court once a week. The first thing to remember though, is to stay calm. Second, when they receive a bond from the judge in either case, be prepared for it to take all day. Especially, if court is busy.
The jail makes one trip to court in the morning and one trip back that afternoon. Although, they might get a bond in the morning, at the same time, they won't get back to the jail until that afternoon. That's when we can start the bond process. In the event that they're not granted bond right away, they'll stay in booking for about 72 hours. This gives the jail time to process them. Next, they're sent to general population. There, they can take advantage of the jail programs offered. GED testing and Life skills. Substance abuse counseling and Adult literacy, as well as mental heath counseling and Parenting classes also. All free of charge in the hope that the inmate truly wants to change.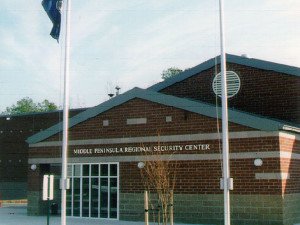 Posting Bail
The Middle Peninsula Regional Security Center doesn't have a magistrate on site. Despite that, we can still post bail 24 hrs a day by video. Henrico Jail East and Gloucester jail have magistrates on site. Those magistrates are normally the ones used by the jail in Saluda. Of course, posting bail at the Saluda Jail is also always different. On the negative side, sometimes it's slow. On the positive side, other times, its fast. Nevertheless, it's always a good idea to be patient as much as possible. Unlike other jails, bail bondsmen here also have to be escorted to the back of the jail.
Sometimes, 45 minutes has passed by the time the officer comes to get us. It just depends on how busy the officers are. Family and friends are welcome to sit in the lobby, however, they aren't allowed back. Once we're taken back, the bail bond process starts. First, our client is brought into the bonding room with us. Second, the jail officer calls up the magistrate on video. Third, the defendant swears to show up for their next court date. Lastly, we sign the paperwork for the bond. Then, the bond is now posted and our client walks out of the jail with us.

Here's some of the most asked questions about the Middle Peninsula Regional Security Center….
Jail Visitation
Sending Mail to an inmate
Saluda Jail Inmate Accounts
Middle Peninsula Regional Security Center Physical Address
Middle Peninsula Regional Security Center
170 Oakes Landing Road
Saluda, Va 23149
Saluda Jail Mailing Address
Middle Peninsula Regional Security Center
PO Box 403
Saluda, VA 23149