A WAY OUT


BAIL BONDS
Bail Bonds Powhatan VA | Bail Bondsman for Powhatan County
Powhatan Bail Bond Information | 804-537-JAIL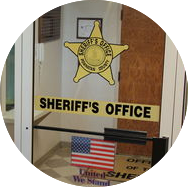 A Way Out Bail bonds Powhatan VA are used when you need bail bonds in Powhatan Virginia. No one is immune to the legal system. Even a minor charge can cause a person to be taken to jail. Securing bail is often the only option to be released from jail and remain free while awaiting trial. The easiest solution is to use a bail bonds company close to the Powhatan VA Sheriff's Office.
The bail bonds Powhatan VA process is different than most jails. Bail can be posted at the Powhatan VA Sheriffs office if you call us fast enough. This way your friend or loved one will not be transported to the Piedmont Regional Jail. They can be released from the sheriffs office. If we're not able to post bail at the sheriff's office, they'll be taken to the Piedmont Regional Jail in Farmville, VA. Posting a bond at Piedmont Regional Jail will make the process slower. Always call us as fast as you can.
Hire a Bail Bonds Company Who Cares
Fighting charges requires a defense. However, that's hard to do if you're sitting in jail. By using a local Powhatan Virginia bail bondsman, you can be free to help in your defense.
Get Released from Jail Quickly With Help From A Bail Bond Company
In fact, first, a bail bondsman can help you get released from jail fast enough so you can keep your job. Second, Getting out of jail lets you keep working so you can pay your bills and feed your family. Third, our bail bonds services allows you to get back to your family and home after just a few hours.
Bail Bonds When You Need Them
You may not be able to come up with all the required bail money and will need to take advantage of our bail bonds services. We charge a state required 10% fee. A Way Out Bail Bonds allows you to post bail without the need to find a lot of cash quickly.
Fast and confidential Bail
Our bail bonds services are fast and confidential. Usually the magistrate will set bail within a couple hours. This is when our bail bonds Powhatan company provides help to have you released fast. You can pay the fee using cash or credit cards also. Using our bail bonds Powhatan is an easy way for you to protect your assets. You can hold onto your money and property while awaiting trial or building a defense. A Way Out Bail Bonds keeps you out of jail while awaiting trial and we're there for you the entire time.
A Way Out Bail Bonds has bail agents minutes from the Powhatan VA Sheriffs Department. Although, we realize other bail bondsmen claim to be the closest. However, it's not true. Inmates are able to post bail 24 hrs a day in Powhatan VA. Call us anytime your friend or loved one is arrested in Powhatan Virginia. Depending on the crime, your friend or family member may be held with no bond. In that case, depending on when they're arrested, they may not be given a bond for up to a week.
Feel free to call us even if they don't have a bond. We'll be happy to discuss any options you may have. We can also put you in touch with some of the top attorney's in Powhatan VA.